Shop 2021 Silverado Medium Duty Inventory
At Joe Basil Chevrolet the 2021 Chevy Silverado HD comes ready to work straight from the factory. It offers an integrated Power Takeoff (PTO) package on the Allison® transmission and dual alternators on both engines to make it easy to power the accessories you've loaded into your Chevy work truck. It has lower bedside walls, providing more trailer clearance for fifth-wheel and gooseneck towing, and snowplows are mounted in a snap with the modular front end - perfect for business owners in Depew, Buffalo, and the surrounding areas.
Medium Duty trucks are perfect for landscaping and general construction. In addition, medium-duty trucks are optimal for serving the following vocations: delivery services, plowing, and even light garbage/refuse/recycling. Joe Basil Chevrolet proudly features Silverado Medium Duty 4500, 5500, and 6500 trucks, upfit and work-ready with stake beds, dump beds, and dry freight van bodies. Medium Duty Cab Chassis are on-hand and ready for upfit through Knapheide, Supreme, Reading, Unicell, Morgan, Monroe, Air-Flo, Crysteel, Bay Bridge - the best in the industry to suit your specific needs.
---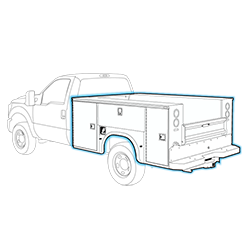 MULTIPLE UPFIT OPTIONS
6.6L DURAMAX DIESEL + ALLISON TRANSMISSION
UP TO 50 DEGREE WHEEL CUT
MULTIPLE WHEELBASE OPTIONS
---
2020 4500HD
GVWR

14,001-16,500 lbs.

Cab

Regular Cab/Crew Cab

Wheelbase

141"-243"/175"-235"

MSRP

Starting at $48,200
2020 5500HD
GVWR

17,500-19,500 lbs.

Cab

Regular Cab/Crew Cab

Wheelbase

141"-243"/175"-235"

MSRP

Starting at $49,300
2020 6500HD
GVWR

21,500-23,500 lbs.

Cab

Regular Cab/Crew Cab

Wheelbase

141"-243"/175"-235"

MSRP

Starting at $54,465
2021 4500HD
GVWR

15,000-16,500 lbs.

Cab

Regular Cab/Crew Cab

Wheelbase

141"-243"/175"-235"

MSRP

Starting at $49,300
2021 5500HD
GVWR

17,500-19,500 lbs.

Cab

Regular Cab/Crew Cab

Wheelbase

141"-243"/175"-235"

MSRP

Starting at $50,400
2021 6500HD
GVWR

21,500-23,500 lbs.

Cab

Regular Cab/Crew Cab

Wheelbase

141"-243"/175"-235"

MSRP

Starting at $55,565